THE ROAD TO VIETNAM – TWO GUYS, TWO BIKES, NO CLUE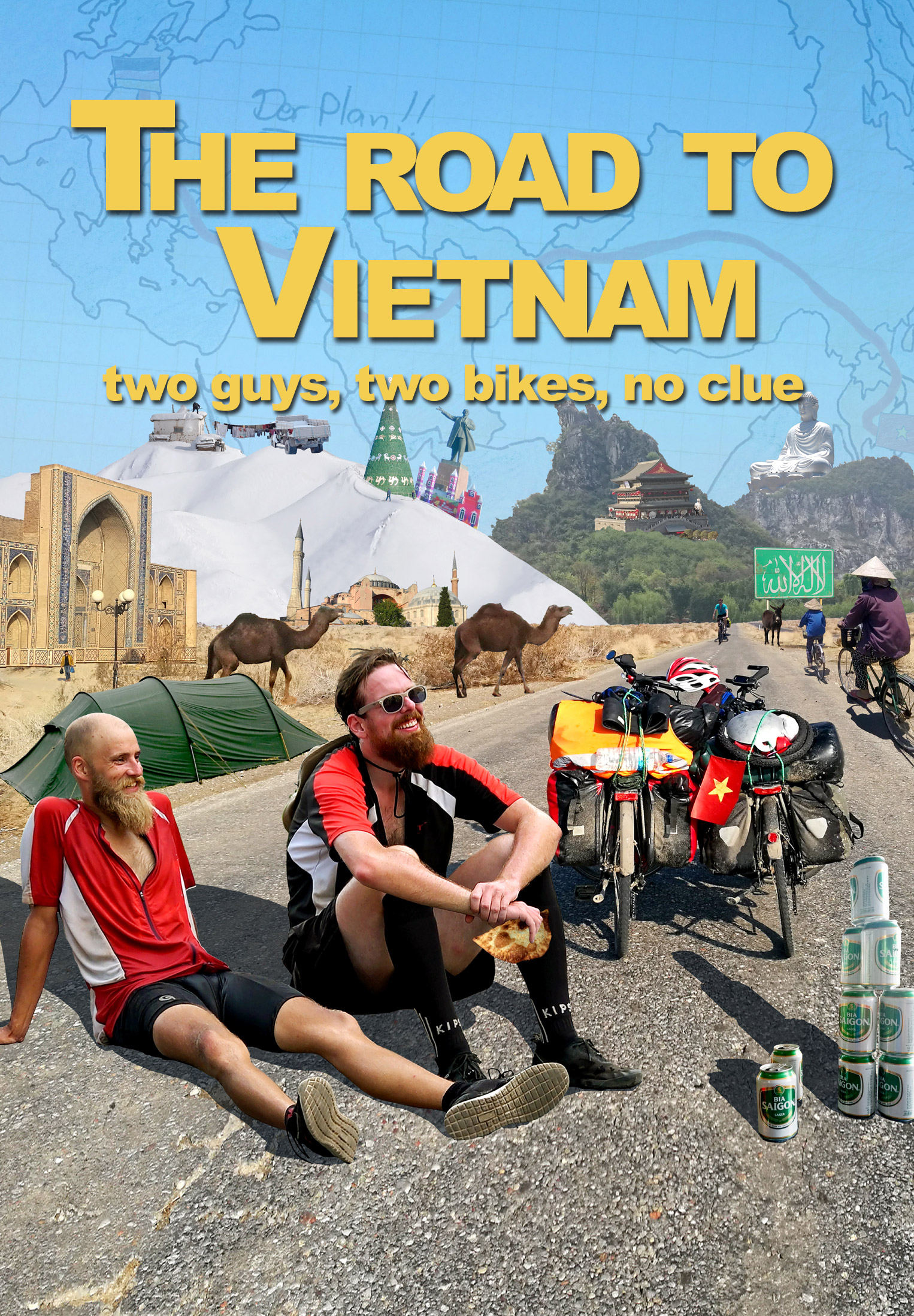 Cycling from Germany to Vietnam – with no prior training!? That's exactly what Otti and Keule set out to do. They travel across the Balkans, to the Black Sea, through Turkey, Iran, Central Asia, and China. A journey of 10 months – on an often bumpy road. They struggle with deserts and mountains, with breakdowns, blazing heat and arctic frost. Suddenly, they find themselves right in the middle of Chinese state surveillance… A film about two ordinary guys who never lose their sense of humor as they keep pushing to reach that one ambitious goal!
"Grab a cold one, relax and enjoy this 108-minute-joyride! THE ROAD TO VIETNAM is no ordinary travel documentary that annoys you with self-discovery drivel or Instagram-landscape-montages" Waldemar Schleicher, Director of this movie
"THE ROAD TO VIETNAM is a congenial cinematic travelogue, executed with much attention to detail" Programmkino.de
With their debut feature documentary director Waldemar Schleicher  and his friends Otti (Tobias John) and Keule (Matthias Schneemann) show that a world tour on bicycles can be done without meticulous preparation and physical training. It is a daring plan – years after having made a bicycle trip across Europe, the friends want to surpass their past ambitions and challenge the epic route along the former Silk Road. A ten month-journey over 13.000 kilometres with many challenges – but also lots of – sometimes grim – humor along the way.
"Refreshingly self-mocking" FILMDIENST
"THE ROAD TO VIETNAM – TWO GUYS, TWO BIKES, NO CLUE is great fun and makes you want to get on your bike as well!" Spielfilm.de
"Amusing and entertaining – great fun!" ZDF television
Original Title: VERPLANT – WIE ZWEI TYPEN VERSUCHEN, MIT DEM RAD NACH VIETNAM ZU FAHREN 
Country of Production / Year: Germany 2021
Directed by: Waldemar Schleicher
Cast: Tobias John, Matthias Schneemann, Waldemar Schleicher, Luisa Hollenbach
Language: German
Subtitles: German, English, Russian, French, Spanish, Catalan, japanese, vietnamese, czech
Format: 16:9
Runtime: 108 Min.